The Creator's Refuge Story
The Dream
Everett and Lynne Byers were joined together in marriage in 1984. They have three wonderful daughters and two beautiful granddaughters. God has given both Everett and Lynn a heart for ministry, and over the past ten years, they have been very involved in several different outreach programs through their church in Cumming, Georgia.
Everett has always been an avid hunter and fisherman, and the whole family loves the peace, serenity, and beauty of the outdoors and country living. One of their life-long dreams had been to own land somewhere in the countryside where they could relax and spend time outdoors with family and friends. In 2014, God made that dream a realization by blessing Everett and Lynne with the ability to purchase a beautiful tract of land just outside of Monticello, Georgia. It was everything they had dreamed of with lots of hardwood trees, open pastures, and an 8-acre lake stocked with fish!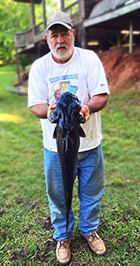 Much of their first years of owning the land were spent fixing up an old cabin and barn on the property. They cherished their time working together and cleaning up the land and even planted a fruit tree orchard! They grew to love the place more and more and decided to name it Triple B Farm.
One spring day in 2017, a neighbor reached out to ask if Everett and Lynne would allow the use of Triple B for a turkey hunt with a friend, their pastor, and his teenage son. The Byers immediately said "yes," happy to share the gift they'd been given! A few weeks later they received a phone call from their friend who was very excited to tell the story of their experience at Triple B. He shared that even though the pastor's son had heard about Jesus all his life, something had been holding him back from fully accepting Christ as his Savior. However, God used the peace and serenity of His creation and opened his heart to hear. The son decided that day to fully follow Jesus and was soon baptized!
The Idea for Creator's Refuge
After hearing that story, it became clear that God was calling Everett and Lynne to open up their property to MANY more people, and the idea of Creator's Refuge was born! They began to pray and ask God how He wanted them to move forward. He answered quickly by bringing a pastor and his young leadership team from a local college looking for a place to get away and have a fun planning session for the upcoming year. Although Everett and Lynne felt they had little to offer but an old cabin, the lake, and the land, the team said it was a perfect place to relax and connect with God and each other. God once again used Triple B for His glory!
That was the confirmation the Byers needed to know they were on the right track. Everett and Lynne chose to set aside 50 acres of their land to be used for the development of Creator's Refuge. They know the possibilities are endless and are continuing to move forward with the ministry. God has begun providing the Byers with the necessary resources and connections to fully develop Creator's Refuge.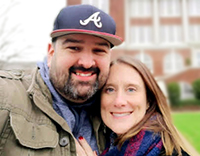 In January 2019, Creator's Refuge was blessed to add Ronny and Mary-Michael Taylor to the team as camp directors. There is still a LOT of work to do, but everyone is truly excited and grateful to be part of something bigger-something only God can do! Everett and Lynne stand in awe of Him and can't wait to see where He is taking Creator's Refuge and how many more lives might be transformed through His gift.