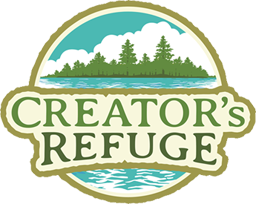 Creator's Refuge exists to serve others by providing a peaceful, natural environment where groups can experience nature while connecting with each other and God.
Retreats 
Creator's Refuge is located on a beautiful piece of land that invites everyone to relax and enjoy the outdoors. We are designed to promote an intimate and fun growth experience in a small group setting. During the summer months, our primary focus is to provide sponsored retreats for underserved youth ages 8-18; however, there are plenty of other times available for other groups to enjoy our facility. Whether you are looking for a quiet ladies' retreat, a youth mission opportunity, a man camp or a team building retreat for your employees, Creator's Refuge is the place for you. Some of our activities/amenities include:
Team building, outdoor games, fishing, hiking, nature walks, scavenger hunts, worship sessions, indoor meeting spaces, brand new bunkhouses and bathhouse (accommodating up to 20 guests)
For more information or to book a retreat, CONTACT US.
Serve 
There are many ways you can serve at Creator's Refuge. Whatever your level of experience, abilities or giftedness, we have a place for you! 
Prayer Warriors
Grounds maintenance
Food preparations and meal service
Camp counselors
Retreat volunteers
Music time
Cleaning crew
For more information on serving at Creator's Refuge, CONTACT US.
Donate 
At Creator's Refuge, we are so grateful for your generous support. As a non-profit 501(c)(3), your gifts and donations enable us to enhance the lives of individuals big and small by giving them the opportunity to escape the "hustle" and experience the glory of creation.